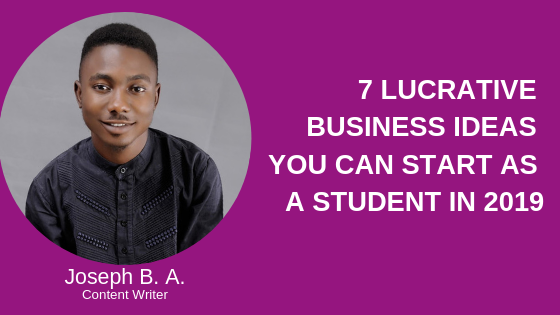 Ever been seriously stone broke as a student? If yes, I have been there too. Imagine the stress of studying without a penny left on you… Frustrating right? How do you handle this? Do you run back to families and friends to always help you when there are several businesses you can do without interfering with your studies? I will be showing you 7 lucrative business ideas that is guaranteed to earn you regular income as a student in 2019.
The ideas discussed in this article are businesses that will only require:
Few hours of your time to execute them; most of them you can work on during the weekend.

Small amount of money to start, at the most N1,000 to N15,000.
But Why? What's the point?
Apart from filling your pocket with some extra cash, starting a side lucrative business in school has lots of advantages.
It helps you gain vital experience that will take you further after school.

You set up contacts and client base you can draw from when you need them.

Since labour market is usually not pretty (nothing is guaranteed), it prepares you for life after school.

You can learn and grow in confidence with each failure and success.
7 LUCRATIVE BUSINESS IDEAS YOU CAN START AS A STUDENT IN 2019 – 100% RISK FREE
1. Typing and editing
Most students have need to type their assignments, projects and thesis. If you possess a personal computer system, you can start a typing business.

You can collect the handwritten assignments from your customers and type in the evening, after school. And if your typing speed is slow, kindly install a typing tutorial software like Mavis Beacon and start practicing.
Printing can be done for as small as N20 per page. You can then take your typed work to a computer center and print. You can place your charges between N50 to N100 per page for each typing job, which gives you a profit margin of between N30 to N80 per page you type. If you can get 20 pages typed in a day, you will be making between N600 – N1600 extra cash.
2. Web design:
Choosing a career in web designing has huge benefits and also pays heavily. If you're not yet skilled in this field, simply sacrifice and spare sometime to learn it and as soon as you're skilled enough, you can take it to the next level.
Individuals, organizations and companies will pay heavily to have a website opened and managed for them.
This business can generate good income for individuals and students who are industrious enough to take the dive.
3. Hair styling/plaiting business:
I have a friend who used hair styling/plaiting business to pay all her school bills. Her method is simple, during the weekends, she would visit student hostels and ask for students that wanted to make their hairs. She plaited and fixed weave-on too.
If you don't know how to plait or fix weave-on, you can learn and offer the services for a fee in school. You can charge as much as N500 to fix a weave-on and N1,500 for plaiting of hair depending on the economic rate in your location.
4. Blogging:
Blogging is a very good and lucrative business for students to launch. Blogging is highly recommended for students as it will both expose you and increase your knowledge about a wide range of ideas and topics. You can even start blogging using these free platforms; blogger (by Google) or wordpress.
Blogging about interesting topics that are educative, enlightening, and topics that meet specific needs of the readers can fetch you lots of money. With your laptop and an internet access, you can start this business. If you don't have a laptop, don't worry, you can start with your smartphone.
5. Sales of data plan:
Another nice income generating business to do as a student in 2019 is to venture into sales of data plan to fellow students and lecturers, especially.
You just need to familiarize yourself with as many lecturers who use a good amount of data monthly. As a data re-seller, you can supply data to students and lecturers whom you have made contact with and make your cool cash daily. You can sell data ranging from MTN, GLO, Airtel, 9Mobile, etc.
6. Freelance writing:
What if I tell you that you can make lots of money from writing? Yes, you can. If you have a good writing skill, you can write for bloggers who may not have the time to write or guestpost on paying blogs. You can make a fortune from freelance sites like ODesk, Fiverr, Freelancer, etc.

Nairaland.com for example, is one of the good places to offer your writing skills for a fee. As a beginner, you can offer free writing services as a way of introducing yourself and getting positive feedback. The reviews you get will be important when you create your own advertising pages.
7. Social media marketing:
Another great way of making money while in school is using your social media influence as a marketing tool. Social media marketing is a form of advertising on social media.
People with large followers on social media use this medium to reach out and advertise products and services of contracting companies. If you're a social media influencer, you can be contracted by companies to advertise their products or services.
I tell you, it is a really cool, laid-back way of making money for students. Give it a try!
There are several other business ideas out there, but these should get you started. Remember, an idea as long as it only remains in your head is basically useless. Don't procrastinate! The time to start doing something is now!

Feel free to drop your comment(s) in the comment box below.
Joseph B.A. is a Professional Content Writer, Editor, Web Designer and Social Media Marketer. He can be reached via [email protected] or +2348103333337