WHY YOU NEED TO LEARN HTML/CSS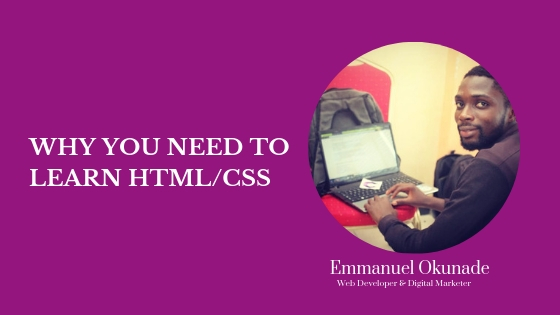 Small business owners, designers, bloggers and marketers typically do not see a need for learning how to write codes. What most don't know is that knowing even the basic HTML and CSS codes can contribute a long way in your work in various ways especially is in saving cost. Which is precisely what many customers desire, to obtain the desired result at a less costly price.
HTML stands for Hyper Text Markup Language
HTML is used to build the basic layout of the website, and it differentiates for the browser what each part of the website is. A markup language is a set of markup tags. HTML documents are described by HTML tags and each HTML tag explains different document content (W3school).
CSS means Cascading Style Sheets
CSS demonstrates how the HTML document is presented. It defines how each element should be rendered on screen and other media.
So why is it important I learn HTML with my job?
1. HTML Increases your value
As a marketer (you can read How To Market Your Business here), blogger or web designer, learning HTML gives you a more competitive edge because you are unlimited by your skills. You will be capable of working efficiently. The essence is not to become an expert in coding from scratch but to understand how HTML works. Marketers need to optimize, analyze, and develop landing pages, and also many other associated functions. Without the fundamental understanding of HTML and/or CSS, you might not obtain the best result you require. Subsequently, you go and look for a web developer to assist you with it.
2. Make Changes when you want to
Websites need to be updated either to include a new image, video or text. As a small-business owner, you don't need calling your designer or developer every time you need to effect changes to your website.
3. Saves Money With HTML/CSS
Everyone knows web developers are expensive. Bringing in a web developer to assist you to get the best result leads to you spending more than you have to. Learning HTML saves you from having to spend money you don't have to. Knowing HTML and CSS allows you to be able to evaluate the time and cost of web design. To most people, generally speaking, designing a website can look simple which can then make it hard to judge the reasonable price to pay for a website. Make Changes when you need to. You on top, will not fall victim to a fraudulent or less honest web developer/designer. Knowledge of HTML and CSS allows you to have a better feel for the process it takes, and you will be able to judge a better price to pay.
4. Saves Time
While using HTML editors does your work faster when creating a website, there is always a chance of your website crashing. If this happens to you, your knowledge of HTML saves you the time of starting all over. You naturally have to make necessary adjustments when the HTML editors put in unnecessary codes and do correctly your own HTML coding in the situation they crash. Every so often, you may also encounter situations where the editor does not provide what you seek. When this happens, you can work to achieve your desired solutions if you know HTML. As a business/website owner, rather than waiting for your developer to come back to you, you can start in the changes you want to effect until the developer/designer gets back to you.
5. Know the best website for you
Learning basic HTML and CSS will expose you to diverse types and kind of website. This will then enable you to know the best website for you or your business.
NOTE: To learn HTML and CSS you can visit any of these websites freeCodeCamp: Learn to Code and W3Schools Online Web Tutorials. The courses are free and there are certifications.
Article Written by Emmanuel Okunade, microbiologist, web developer, and blogger. His interests are God, digital marketing, web development, books, movies, and sneakers. He can be reached at email: [email protected] || Instagram at Okunade Emmanuel.
Are you interested in joining our bloggers team or you want to write for us? Shoot us a mail at [email protected]