In this GoGlobal BlogPost, Monisola Bamigboye, CEO, Monite Publicitá shares her Startup Story. Monisola is a graduate of Agricultural Science from the prestigious Ekiti State Universtity, Ado-Ekiti, Ekiti state, NIgeria. Recall that we published the startup story of a lady who started her business because she wanted to be part of people's lives. In Monisola's case, her startup is born out of passion to help business go global. Read her story in her own words below.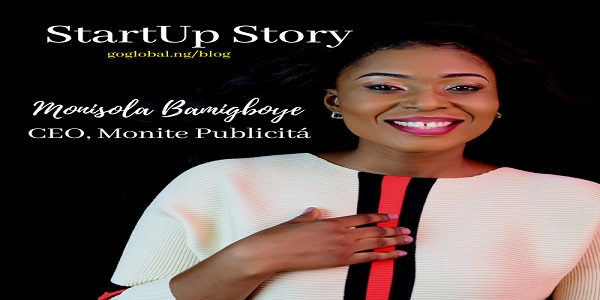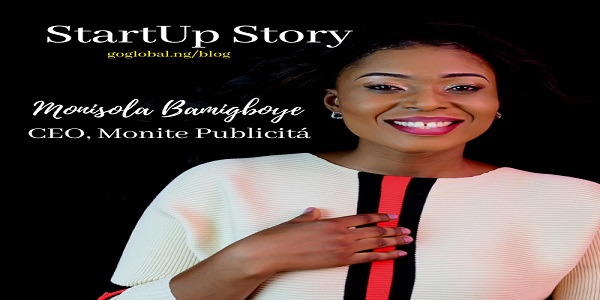 The Start Up Story Of Monisola, CEO, Monite Publicitá
Little do I know that there is business one can start without money… Sounds great? Yea.
I was at the verge of submitting my final year project and I thought of what I could do, either to learn, or earn money.  I eventually got a job, but I later left when the idea of my business came up so that I can give my startup full concentration.
Prior that time, I got myself acquainted with some Facebook 'sponsored adverts' with thousands  of likes, shares and comments.  This really caught my attention and I said to myself "I will like to help Business grow by doing advert for business owners."
I made my findings and I got a professional who put me through and that was the beginning  of the breakthrough.
I was able to carve out a niche for my brand called MONITE PUBLICITA. Monite Publicita an Italian name which means 'publicity' that is, to make known to the public.
So, I leveraged on using social media as the platform of doing this.
Along the line, I became "pregnant of another idea" of managing the online presence of brands because I discovered that there are thriving businesses in Ekiti but not everyone knows about it.  How do I go about this?
It has been a beautiful experience walking up to MD/CEO of brands by letting them realize the benefits they can derive using social media to make their businesses become more visible and attractive to the target audience.
To God be the glory, I have four brands I manage now: the likes of Oba's place, AB Sho furniture,  SMYLNS Catering & Rental services and Sun Up Musical.
Glad to let you know that Sun up Musical received an Excellence award tagged 'Southwest Nigeria Excellence Awards' as the outstanding Musical Shop of the year 2018.
Finally, I'm now certified by Google Digital Skills on Digital Marketing.
Monisola Bamigboye can be contacted on Facebook or via email: [email protected]
Do you have an inspiring Startup Story or want to share someone's story? Send us your story for publication via e-mail: [email protected]
More Photos from Start Up Story Of Monisola, CEO, Monite Publicitá

We hope that Monisola's Startup Story inspires you to do the great things that are in you. Your comments and contributions are highly welcome. Thanks for reading.
Do you have an inspiring Startup Story or want to share someone's story? Send us your story for publication via e-mail: [email protected]