Ekiti Event Vendors Conference is the biggest leadership and entrepreneurs conference for brands and businesses in Ekiti state. The conference started last year (2018) and has become a force to be reckoned with in Ekiti. It brings together business owners and leaders across the state and beyond to learn, network and exhibit their products (for those interested).
This year's conference is so spectacular. No one told me; I was there myself. It's a collaborative work of two amazing great people – Janet Alalade and Yomi Joshua. A merger of Ekiti Event Vendors Conference and The Shift Conference.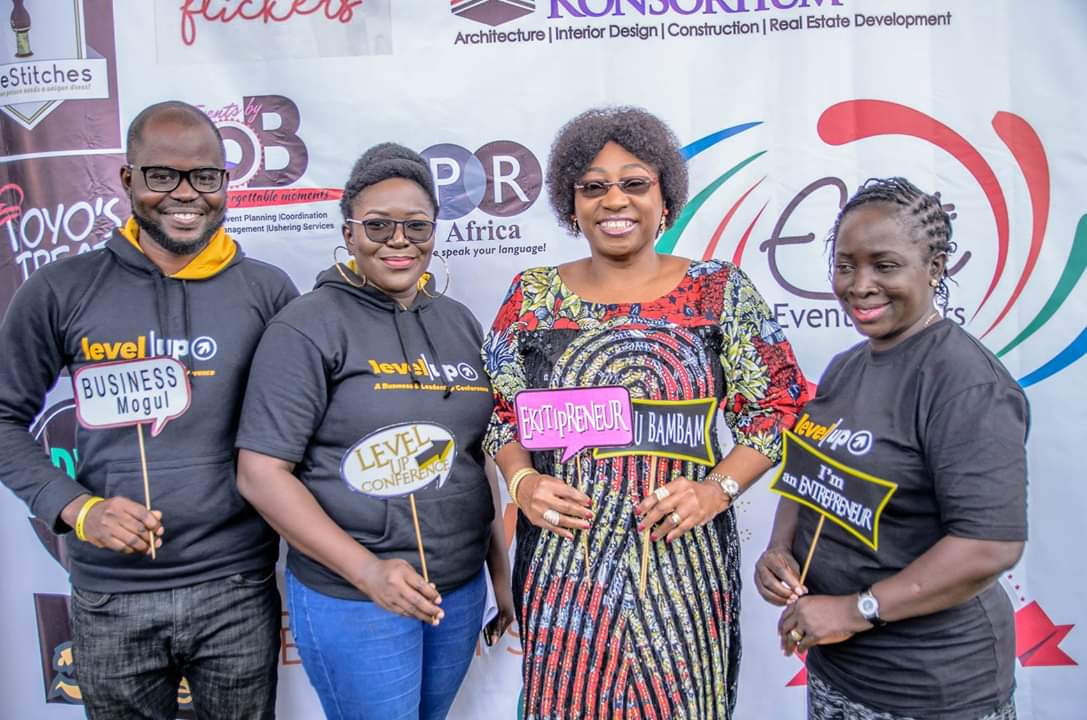 Yomi Joshua and Janet Alalade at the LHS
Hence, I will be sharing with you 13 Lessons I learnt from Ekiti Event Vendors Conference 2019.
13 Lessons I learnt from EKITI Event Vendors Conference 2019
Permit me to use "EEVC" as acronym for Ekiti Event Vendors Conference.
EEVC Lesson One: There is Power in collaboration. I remember Mike Olaniyan talked about collaboration during the first panel session at the conference. To me, this was strongly displayed by the collaboration between Ekiti Event Vendors Conference and The Shift Conference. Their coming together to achieve a purpose speaks volume.
EEVC Lesson Two: Whatever business you're into, knowing your target audience or target market is key to your success. This was emphasized by Sola-Salako Ajulo (SA to the Governor of Ekiti State on Communications and Strategy), Erelu Bisi Fayemi (a Gender Specialist, Author and Wife to the Governor of Ekiti), Rev. Tope Popoola, Lola Aluko and myself (Sola Mathew).
During the second panel session in which I'm one of the panelists, I mentioned Google Analytics and Facebook Insights as two of the digital tools you can use to understand your audience. 
EEVC Lesson Three: Invest in the things that matter. That was the way Erelu Bisi Fayemi rightly puts it. When you make money from your business, the first place to invest is the business itself. Re-invest in your business and other investments such as real estate, bonds, etc. 
EEVC Lesson Four: Have good manners. This would really stand you out in business and leadership. It tells a lot about how you manage your time, dress and display in public. For example, bad mannerism is chewing gum in public places.
EEVC Lesson Five: Every business needs healthy competition to succeed. You need a business you can see as benchmark either in your locality or abroad. Erelu made that point succinctly.
EEVC Lesson Six: Always tell your story. I love this part. Tell your story especially of your WHY and HOW. Don't leave people wondering and feeling inferior with your story. Tell a story of hope and "can do".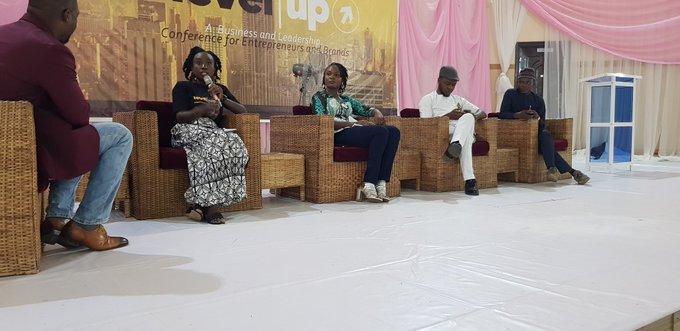 A cross-section of the first panel session moderated by Lawrence Mayowa Ekundayo
EEVC Lesson Seven: You're in business to satisfy your customers. Even government that don't service her customers (the people) well will have problem with governance. The people would vote them out. I was thrilled when Rev. Tope Popoola mentioned this 6th Lesson. You can also read these 3 steps to acquire customers online here.
EEVC Lesson Eight: Always get feedback from your customers. You might not really like to get feedback because of the fear of negative feedback but getting feedback is the best thing to do. Both negative and positive feedback can help improve your business when handled well.
EEVC Lesson Nine: Make Access Easy for customers. Either it is getting access to your product or paying for your product, let it be easy. In this age, you won't close enough sales if you mandate people to go to the bank, make deposit and then send you a copy of teller. Why not send to your account number or use payment gateways like PayStack.
EEVC Lesson Ten: Provide help tips about your product. I love this part so much.  Thanks to Sola-Salaku Ajulo for mentioning it. This is more like content marketing. The aim of this is for your customers to know you, like you and trust you. I call it the KLT Factor. In fact, you're setting yourself as an authority in your field when you do it the right way. 
ALSO READ: How To Take Your Business Global With Digital Technology
EEVC Lesson Eleven: Research your customers communication habit choose the media platform they are. This is more like knowing your customers that I mentioned in Lesson two. What communication channel do your customers use? Do they prefer email, Social media, Radio or Newspapers. Like whatever your customers like and be where your customers are.
EEVC Lesson Twelve: Have a website for your business. I know you will say that you're on social media already. While that is good, there are many reasons why your business needs a website. Among them is full control over your online presence. Facebook and other social media platforms can ban you anytime. Having your own website is the right thing to do for your business. Besides, your customers are constantly finding you online and if they don't find you, they go to your competitors.
EEVC Lesson Thirteen: Sola-Salako Ajulo said and I quote "Don't feel, just get up and do." Now is the time to start. Don't wait till tomorrow. Take action on what you already have and start immediately. Either you want to start a business or invest in knowledge that would help your business grow, start now. 
Recommended Read: How To Build a Successful Business as a Woman
Remember, it is not what you don't have that limits you, it is what you have but don't know how to use. All that you need to succeed is in you.
Bonus Lesson: spice up every of your event with someone like Sola Shittu. This guy is crazily amazing. His song, #ProudlyEkiti, was one of the most interesting part of the event. 
Those are 13 lessons I learnt from Ekiti Event Vendors Conference 2019. I believe that you have enjoyed this article. Go and start.
Where you at the Ekiti Event Vendors Conference 2019? What other lessons did you learn that I didn't add in this post? Please share them with us using the comment box below.